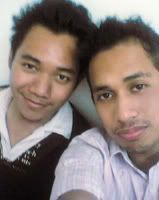 Yesterday was a me-on-my-own Sunday. My favorite Spurt goggles (at the center joint between the lenses) has split into two, due to regular usage; so I had to go to One Utama and get a new pair. I went to Jusco and all that they have is the Ogival brand. I went to the Arena boutique and they cost like fifty each. At last I went to Parkson and bought myself a blue pair of Arena goggles worth 27 bucks.

There were much more 'wow' goggles too, like what the makcik promoter said, "Yang ni lawa ni, khas untuk dipakai lelaki tampan. Kalau pakai ramai anak dara suka ni." Yeah, and that would burn a hole in my pocket. Seventy bucks for a pair? Forget it. I will still look tampan without wearing those.

That day I bumped into an old school mate. He shaved his whole head, which doesn't suit him at all. Anyway, the plastic conversation goes like this:

me}} Are you alone?

friend}} I am waiting for my friend. Eh, where are you working now?

me}} *after a quick thought* I am working in Boustead, at Jalan Raja Chulan.

friend}} Oh, that huge company owning the BP petrol.

me}} *arrogantly* Yeah.

friend}} Where's your girlfriend? Wanna see your girlfriend.

me}} *after a quick thought* Belum ada lagi, belum ada jodoh.

Eugh. I am already starting to be like all other people who use the excuse 'tak ada jodoh'. Like, what happened to the person who makes loud statements all the time? And why guys always ask that silly question anyway?

I have added a new color in my wadrobe pallet. A new Seed pink shirt. There was only one S size for that shirt, so I grabbed it.

Oh, and what about the photo up there? Well, I went to Unisel and paid him a visit lor… Really salute people who study in such places. It takes guts and determination to stay in a deserted place and focus on studies. Did that back in Banting; suffered it.